W. Bryant Morton, DVM
I am Dr. Bryant Morton and I am fortunate to be a veterinarian and co-owner, with my wife Dr. Wendy Wade Morton, of Lynchburg Veterinary Hospital.
I was born in Auburn, Al to two loving Christian parents and grew up with my younger brother in Apex,NC. After finishing grade school in Apex, I received a degree in Animal Science from North Carolina State University in 1990. I returned to Alabama to attend veterinary school at Tuskeegee University School of Veterinary Medicine and graduated in 1995. It was in the Summer of my second and third year of veterinary school that I married the love of my life Wendy in 1993.
Wendy and I moved back to North Carolina after I graduated from Tuskegee and I worked for a mixed animal practice in Lumberton, NC during my first year out of vet school. Wanting to work for ourselves and make our own business decisions, Wendy and I opened a mixed animal practice in Elizabethtown, NC. This hospital became our life. We worked incessantly and built a thriving practice in one of the poorest counties in North Carolina, that met many desperate needs for high quality veterinary medicine with sincere compassion and personal caring. We are proud that this hospital is still in operation today and just as successful as the day we sold it to a veterinarian and his wife from Long Island, NY in 2006.
Most people were confused as to why we chose to sell our practice when it was still growing and extremely successful... and seemed to be the perfect future for two veterinarians who had developed it from just a dream and a remodeled horse barn. One year after opening our practice Wendy developed breast cancer and it was a real eye opener for both of us. We were told by doctors that the chances of us having children were extremely slim. Fortunately for us God had other plans and we were blessed with two boys; Bart in 2002 and Alex in 2005.
Realizing that we really needed to slow down and concentrate more on enjoying life than working our way through it, we sold our first practice and moved to Shelbyville, TN in the fall of 2006. Wendy and I have raised Spotted Saddle Horses and Tennessee Walking Horses since the late 90's and the love for these animals was what introduced us to the middle Tennessee region. The more we visited this area the more we loved it and the people that were a part of it. We found our home and dream farm in Flat Creek and hope to live here for the rest of our lives.
After taking about six months off from veterinary medicine, I started doing fill-in relief veterinary work while Wendy continued to developed our farm and raise our boys. I continued to pursue a career as a relief veterinarian for 5-6 years and though the job was enjoyable to me, there was just something missing. As a veterinarian you obviously have to love animals and trust me, I love them as much, if not more, than most anybody you will ever meet. But with those animals come people. Owners. Caregivers. Animal parents. Whatever you choose to call yourselves. And that is what I enjoy most about veterinary medicine. Meeting new people and establishing relationships with people based around the love of their pets. Our own clients coming to our hospital for our services; that's what I missed most. And that's what brought us here to Lynchburg.
How we actually picked Lynchburg as the home for our second hospital was another story. I had just lost both of my parents in 2012 and felt that if there was ever a time to pursue ownership again this was it. I drove through Lynchburg weekly on my way to other jobs and Wendy and I brought our children and out-of-town guests to this charming town frequently. I loved this town but my biggest concerns were the demographics. I kept thinking "It's a very small town and there are several other veterinary hospitals within 20 miles in any direction you turn. Many of these practices I have worked in." Then we just couldn't seem to find the right building. Things looked like it just wasn't meant to be.
Then one day on my way home from working in a practice in Giles County I looked in the rear view mirror as I entered the Lynchburg city limits to make sure no one was behind me. I slowed down to about 15mph and asked God to show me today where our new hospital would be. I knew that if I made it to the other side of town and He didn't show me anything today this was not the right thing to do. As I approached the square I was looking to the right examining every house and building hoping for one last possibility and that's when something made me turn my head to the left. I saw an old white building that I had never paid attention to before. It had parking on both sides of it and sat on a rise almost overlooking everything around it. It was surrounded by trees and overgrown bushes and maybe that is what kept it hidden form me for so long. But the more I looked at the building the more I felt something that my mom had always told me, "When God speaks to you, you will know it".
And so the rest, as they say, is history. And another series of interesting stories much too involved for this document. But most of all thanks to the building's owner, Buford Jennings and many helping hands, Lynchburg Veterinary Hospital opened in the Fall of 2012.
If you have never visited our hospital we invite you to come and see us and experience what we pride ourselves in... as a personal and comfortable animal hospital with state-of-the-art equipment in a home-style atmosphere. If you are a client, we humbly thank you for your patronage and thank you for entrusting us with the lives of your beloved pets. If you ever want to hear some of the other interesting stories or the unique history of this building, we would love to share those with you. Once here, as you move room to room in this neat old house, as we prefer to call it, you will see one constant in most any room you stand in; a cross. Just a gentle reminder to each of us as to who the "ultimate physician" is and the reason we are in Lynchburg today.
---
Wendy Morton, DVM
I grew up in Wisconsin and graduated from the University of Wisconsin-Madison School of Veterinary Medicine in 1991. Bryant and I met while I was doing a senior externship at the mixed animal practice he was working at in Apex, North Carolina. I adored him at first site and the staff there convinced him to take the poor little girl from Wisconsin on a date! We married in 1993 and opened a mixed animal practice in southeastern North Carolina in 1996. A year later, at the tender age of 31, I was diagnosed with breast cancer. I survived surgery, chemotherapy and hormonal therapy but was told I might not be able to have children. In 2002, the Lord blessed us with Bart, and then in 2005, we were doubly blessed with Alex! In an effort to slow down and enjoy life a little more, we sold our busy practice in 2006 and moved to Tennessee to 'retire' and raise horses, cows and a vineyard. We live among the rolling hills of Flat Creek, between Lynchburg and Shelbyville. We have a 'herd' of cats (they have their own house on the farm!), 6 dogs, horses, beef cows, a dairy cow named Bessie, chickens, turkeys, pheasants, and peacocks. I thoroughly enjoy spending my mornings tending to the farm animals, my afternoons taking care of clinic business, and my evenings and days off with my family. You can visit our home, Golden Gaits Farm, online by clicking here!
It is truly a joy to drive over the hill on Highway 82 every day and enter the hollow to go to 'work'. I love the smell of mash permeating the city some days when I get out of my car in the clinic parking lot. I love the hometown atmosphere and the comraderie of the townspeople and the business owners. I love our team members and our clients and the many four legged (and sometimes two-legged) patients that come through our doors. I love the historic old building that is our second home. Cancer changes your life. It smacks you upside the head and quickly forces you to put your priorities in order. The real prospect of dying encourages you to really live. I wake up each day wondering if this is the day my cancer returns. Until that day, I vow to make life exactly what I want it to be, and I couldn't be happier in this little corner of Tennessee, doing what I do, surrounded by the people in my life.
Edit May 2019: On December 20, 2019 while I was doing one of my favorite things (feeding the farm!) I suffered a SCAD Heart Attack. The inner lining of my cardiac LAD artery (the 'Widowmaker') tore and completely blocked the flow of blood to a section of my heart. We were fortunate to decide to drive to Harton in Tullahoma and I received excellent and fast treatment. Dr. Ramya recognized that mine wasn't a normal heart attack, and there wasn't any plaque blocking my artery. She knew how to treat it in the cath lab and I am alive today to tell about it. Recovery has been slow and I am trying to get used to my 'new normal'. The medications fog my brain, thin my blood, slow me down and sometimes kick my butt. SCAD patients have a high rate of recurring heart attacks so I have to pace and not exert myself. I try to keep myself out of stressful situations. I have to plod through the fear of recurrence and sudden death. We now have an AED device in the clinic and in my vehicle for anyone having a cardiac event. You won't see me at the vet hospital much anymore, but rest assured I am still behind the scenes taking care of the financials, the ordering, the online presence, the payroll. We are SO blessed with staff members that are extremely competent and take care of things so I don't have to. I feel like a cat with 9 Lives and I know there must be some divine reason why I am still here. Perhaps my family needs me a bit longer?!?
---
Brittany Parks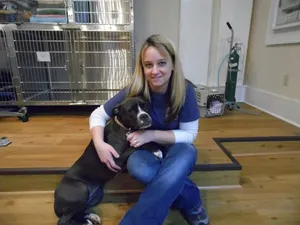 I am 30 years old and have lived in Lynchburg for 10 years now. I am married to Dale Parks and together we have 4 children: Daniel, Bradley, Joshua and Ashlee. When I am not working I am spending as much time with family as possible, working on health and wellness for me and my family or showing horses. I have been here at Lynchburg Veterinary Hospital for over 6 years now and can't picture myself anywhere else.
Note from Wendy- Brittany has been beloved part of the LVH family from very early one. Her patience and steadfastness is admirable! She has excellent technical (and people) skills too and is on her way to becoming a licensed veterinary technician. Brittany has been a great blessing to all of us!
---
Debra Sample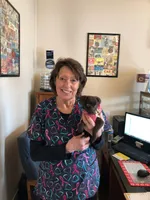 Hi, my name is Debra Sample, I was raised in Racine, WI but have been fortunate to call many states my home. My favorite, of course is Tennessee. After being a caterer and event planner most of my life, I've made the decision to semi-retire and care for animals and their people. Working for Dr's Morton is certainly a blessing.

____________________________________________________________________________________________________________________
Tessa Metcalf
____________________________________________________________________________________________________________________
____________________________________________________________________________________________________________________
Macey Bowman-
My name is Macey. I was born and raised on a small farm in Rockvale, TN. My husband and I moved to Fayetteville, TN April of 2019 where we have a dog named Pandora, 3 cats (Tyson, Kitty and Tommy), a horse 'Oreo', and a pot belly pig 'Porkers'. Outside of helping animals, I'm either spending time with family or doing something outdoors! I've always had a love for the small town of Lynchburg and I am very blessed and grateful to be a part of the Lynchburg Veterinary Team!