We're pleased to offer the following services at Lynchburg Veterinary Hospital, Inc.
Our appointment book is computerized which allows us to efficiently make appointments for you and your pet. Our receptionists and team will attempt to accommodate all requests to the best of our ability. Emergencies are accepted anytime our clinic is open, and Dr. Morton will see true emergencies any time day or night, even when the clinic is not open . If you feel you have an emergency with your pet, please call us (931-759-5550) and then come to the hospital immediately if it is during business hours. Don't forget to add us to your phone list so you won't have to try to look up our number in an emergency situation!
We have a veterinarian and personnel on duty 5 days a week who are trained and equipped to handle any urgent care your pet has. Usually an emergency team consists of at least one veterinarian and several technicians working together to save a pet's life. Emergencies can be things such as rat bait poisoning, hit by car, and chocolate ingestion. If you ever feel that your pet needs emergency treatment do not hesitate to call or come in immediately if it is during business hours. If possible it is best to call before coming in so that a team member can advise you on your particular emergency.
We are also available for urgent care when the condition is not life-threatening. If you feel your pet needs to be seen before you are able to get an appointment, our staff will work to "squeeze" you in between scheduled appointments. When you arrive, our receptionists will be able to give you an estimate on how long you may have to wait in order to be seen.
We can care for many types of pets:
Dogs
Cats
Rabbits
Pocket Pets
Chickens
Pot Belly Pigs

Other Exotics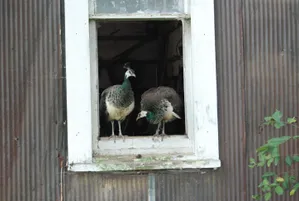 Our groomer Jill Gardner bathes, grooms, trims nails, and more! If she notices anything unusual about your pet's hair coat or general health, she will bring it to Dr. Morton's attention. For the health and well being of all of our patients, boarders, and grooming pets, we require all pets that are groomed to be up to date on normal vaccines, including rabies. If your pet needs a vaccine booster, we can update that while he or she is here being groomed! Call 931-759-5550 to make a grooming appointment with Jill!
Boarding
NOTE: We are currently not offering week-end or holiday boarding services! We hope to resume boarding closer to summer if we can find a responsible and compassionate care-taker! We ARE able to board pets during the week.
We offer climate controlled cages, cat condos and runs with Kuranda raised dog beds for your pets while you are away (or even if you are just visiting Lynchburg for the day!). Our new boarding facility 'out back' has a doggy yard for exercise. Space fills fast during vacation seasons, so please call early to reserve your pet's 'room'!